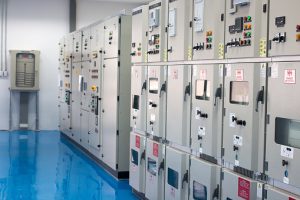 One of the leading Camden County Commercial Electrical Contractors, D.P. Murt, Inc., of Pennsauken, is the only team you need for all your commercial, industrial, or institutional South Jersey commercial electrical service.
D.P. Murt is a veteran-owned business that has been meeting and exceeding customer expectations for more than 30 years. As a full-service industrial and commercial electrical contractor, we are proud of our ability to bring in projects on time and on budget. We know you have schedules to keep, and we believe it's our job to help you meet them.
Here at the highly qualified South Jersey commercial electrical service provider, D.P. Murt, we use skillful attention to detail and innovative approaches to challenges to set a high personal benchmark of excellence. It's a goal of D.P. Murt to maintain our place as the leader of the regional commercial electrical service market in New Jersey, Philadelphia, and Delaware.
As a top Camden County commercial electrical contractor, we have many successfully completed jobs under our belts to use as references for future business, operating in such municipalities as Barrington, Cherry Hill, Camden City, Gloucester Township, Winslow Township, Oaklyn, Pennsauken Township, and Voorhees, Merchantville, Bellmawr, Haddon Township, Haddon Heights, Maple Shade, Mount Ephriam, Audubon. One of these projects is the work we performed in the parking lots of all 19 schools in the Cherry Hill School District here in Camden County, NJ.
In this project, D.P. Murt designers, engineers, technicians, and work crews performed a total turn-key installation of new poles with LED luminaries in all lots at all school locations. As proof of our commitment to doing what it takes to do a job right, we also completed all excavation back fill restoration of the parking lots, including new concrete bases.
Whether you need a licensed contractor for a new project or electrical service or repairs on an existing location, D.P. Murt can meet your electrical needs. Our team has the knowledge and skill level to exceed your expectations as to what a South Jersey commercial electrical contractor should be.