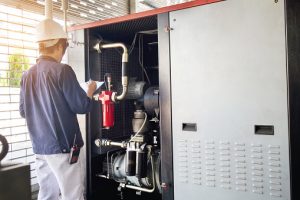 D.P. Murt Co. Inc. is the preferred and professional choice for businesses looking for Bellmawr commercial electrical contractors. D.P. Murt is veteran-owned, and is located just a few minutes' drive away in Pennsauken, NJ. We have been providing office and industrial facilities with electrical services in the South Jersey and Philadelphia area since 1985, and our clients trust us to get the job done on time and on budget.
Whether your Bellmawr business is based in a restaurant, hotel, factory or other commercial facility, we offer a full suite of electrical solutions. We can fully install a new system or repair an existing one, and we are available 24/7 for emergencies when Mother Nature strikes.
Our electrical services include:
Commercial Service. We'll keep your business running and eliminate concern for older systems failing. If you need to replace your existing system, we can put in a code-approved, upgraded setup, with new switchboards and circuits. We can also help you save money with energy audits and energy efficient lighting in your warehouse or office.
Industrial Service. We'll keep your plant or factory running and handling your workload without fear of shutdowns. We can install and maintain generators and add motor control systems and backup systems to prevent work stoppages. If you need a security system installed, we can add door readers and fire systems to keep your plant and employees safe.
Institutional Service. If you need a new system or to upgrade an existing one, or if you'd like to make the switch to green technology using solar and wind power and energy conservation, we can help you with the transition.
Whether you're looking to replace your aging setup or improve the efficiency of your current one, contact D.P. Murt for a free survey today, and see what sets us apart as Bellmawr commercial electrical contractors. D.P. Murt takes care of the power, so you can take care of business.