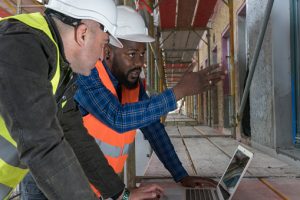 D.P. Murt Co. Inc. is the solid and experienced option for businesses looking for Camden commercial electrical contractors. D.P. Murt offers a full suite of electrical, wiring and maintenance services to businesses and industrial plants throughout South Jersey. We are a veteran-owned company that has been in business for over three decades, and we have a solid reputation for finishing contracts on time and on budget.
Pennsauken-based D.P. Murt provides several types of services to companies in need of Camden commercial electrical contractors:
Commercial Service. We'll replace your facility's existing, outdated wiring system with a new, code-approved system, whether your business is a shopping center, apartment complex or restaurant. Our design and build service can meet all of your electrical system needs, from lighting systems to generators and heating and cooling systems. We can also perform conservation audits to save electrical costs.
Industrial Service. Our technicians are expertly trained and experienced, and we can install and/or maintain your electrical system to keep your plant running and avoid costly shutdowns. We can install new generators or service your existing ones, and we can handle your power wiring and most types of circuits. If you need a security upgrade, D.P. Murt can replace your existing system with a new fire system and electronic door readers to help prevent theft and keep your team members safe.
Institutional Service. D.P. Murt excels at install new power systems and servicing existing ones. We'll replace your lighting system with one that is more energy-efficient, and we can install green technology using wind and solar power.
For more about how we can replace or install your electrical systems, click on the Services tabs on this website, where you can also view some of our finished projects. Whether you'd like to improve your existing power supply or install a new one, D.P. Murt is ready to take on the job.
When you're ready to meet with our team of Camden commercial electrical contractors, click here for a free survey. We'll take care of power so you can take care of business.