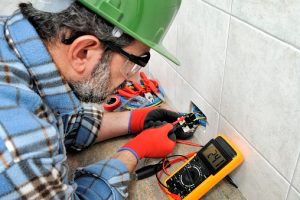 D.P. Murt Co. Inc. is a trusted and dependable name in Haddon Heights commercial electrical contractors. Established in 1985, we are a veteran-owned business based nearby in Pennsauken, and we provide full service electrical contracting services throughout South Jersey. D.P. Murt's mission has always been to provide quality work on time and on budget, whatever your commercial electrical needs.
Whatever type of Haddon Heights business you own, whether it's a restaurant, office or factory, efficient and functional electrical service is an essential part of staying open. It's a considerable cost of doing business to keep your facilities lit, HVAC systems working, and alarm systems operational. Older and inefficient systems can not only mean higher than necessary energy bills, they are also prone to shutdowns that are always costly to a business, both in repairs and closed operations.
Let the team at D.P. Murt handle your commercial electrical needs, for a dependable and cost-effective electrical system that keeps your business going. We handle a full range of your commercial electrical needs, including:
Lighting installation and repairs (including energy-efficient LED, garage, warehouse, office, etc.)
Energy conservation audits
Green technology including solar and wind energy
Design and build systems, including installing code-approved wiring and new generators
Backup uninterruptible power systems
HVAC system wiring and programmable thermostats
Installation and repair of switchboards, panels and circuits
24-hour emergency electrical service
To see some samples of our finished work for both businesses and municipalities, click here to view some of our case studies. See why local businesses have trusted D.P. Murt since the beginning.
Whether you're seeking an upgrade, repairs, or a completely new electrical system for your business, call the Haddon Heights commercial electrical contractors at D.P. Murt today or use this form to request your free electrical survey. Let D.P. Murt handle your power, so you can handle your business.