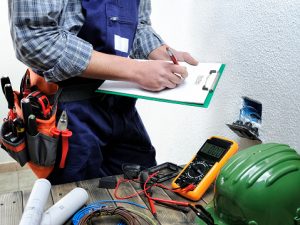 Pennsauken-based D.P. Murt Co. Inc. is currently the electrical contractor for Cherry Hill public schools. Their current contract includes projects such as providing an emergency generator system at Sharp Elementary School, standby generator systems at Cherry Hill West High School and Old Sharp Warehouse, and an LED lighting upgrade in school parking lots.
At D.P. Murt, we understand the importance of keeping school electrical systems up to code, especially when it comes to HVAC wiring and fire alarm and security systems. Families and faculty depend on the school's electrical system to keep buildings comfortable and safe. Public school systems want a dependable electrical contractor that can not only get and keep their systems running, but also save taxpayers on what can be considerable energy costs.
D.P. Murt Co. Inc. is a veteran-owned business that was started in 1985 and provides full service electrical work for both commercial and government entities. We serve most all of South Jersey, including Cherry Hill and Camden County, along with the Philadelphia and Delaware markets. Through our years in business, we have built a strong track record for completing projects of any size on time and on budget. Our company won the 2014 award for "Best Electrical Contractor" in the South Jersey Biz publication.
Our services include free lighting and electrical surveys, design and build electrical projects, facility expansion and relocation and more. We also specialize in green technology and energy-efficient LED lighting upgrades. Commercial and government entities throughout South Jersey, including Cherry Hill and other public schools, turn to D.P. Murt for new generators, code-approved wiring, and energy-conserving system upgrades.
For school systems in need of electrical work, D.P. Murt offers a free electrical survey and energy conservation audits. You can contact us here and find out more about why we are the trusted electrical contractor for Cherry Hill public schools. D.P. Murt handles the power, so you can handle the business.