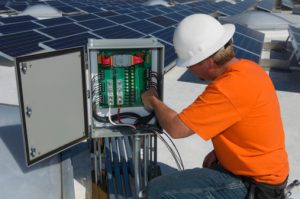 At D. P. Murt Co. Inc., we are the smart and professional choice in Cherry Hill commercial electrical contractors. Our contractors perform comprehensive electrical and wiring services for businesses and institutions in most of South Jersey and in the Philadelphia area. D.P. Murt is veteran-owned and has been completing projects on time and on budget for over three decades. Industrial and commercial businesses choose us because of our innovative approach and attention to detail.
As Cherry Hill commercial electrical contractors, we provide several varieties of services:
Commercial Services. We can replace the old and less dependable wiring system in your office, retail building or apartment complex with a new and state-of-the-art system that is code approved. We can design and build for all of your electrical system needs, including installing generators and HVAC systems, replacing lighting systems, and performing of energy conservation audits.
Industrial Services. Our electrical technicians are highly trained and experienced and know how to install and/or maintain an electrical system that keep your production going without costly shutdowns. We install power generators, power wiring, and most types of circuits, including UPS and emergency systems. D.P. Murt Co. can also replace or upgrade your security systems, to ensure your fire system can be trusted and help avoid breakdowns with electronic door readers and other equipment.
Institutional Services. At D.P. Murt Co., our expertise is in installing new services and repairing existing ones. We replace your existing lighting with more energy-efficient lighting, and we stay ahead of the curve for your power needs in green technology, including for solar and wind energy.
If you'd like to learn more details about the services we offer, please click on the services tabs on this website and see some of our finished work. If you need an overhaul of your current electrical power supply or just want to improve your power efficiency, D.P. Murt has the knowledge and experience to meet your needs.
You can also click here for a free survey, and we'll help you see what sets us apart from other Cherry Hill commercial electrical contractors. We'll take care of the power so you can take care of business.