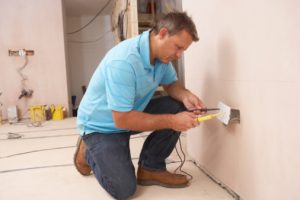 For the professional name in Oaklyn commercial electrical contractors, contact the team at D.P. Murt Co. Inc. We are a veteran-owned business located just a short distance away in Pennsauken, and we take care of electrical needs large and small for businesses throughout Camden County. For over 30 years, D.P. Murt has been the go-to source for new code-approved wiring, generators, electrical system upgrades and much more. Whatever your electrical needs, you can depend on D.P. Murt to complete the job on time and on budget.
The team at D.P. Murt has worked with all kinds of businesses…we've provided power for retail outlets, restaurants, car dealerships and much more. Our technicians can install, upgrade or maintain switchboards, circuits, lighting, and other electrical equipment. We can also ensure that your HVAC wiring is operational and that your fire alarms and security systems are safe and dependable. If you're considering a relocation or expansion, we can design and build your entire electrical system and keep your building's power running strong. Our top of the line equipment and design will save you on energy bills and spare you emergency calls. Click here to see more about our commercial services.
D.P. Murt is also on the cutting edge of the latest green and energy saving innovation. If you're looking to reduce your energy consumption and carbon footprint, we can install solar technology, energy saving lighting systems and more. If you'd like, we'll come out and provide you an energy conservation audit, to identify where your equipment or usage is costing you more than it should.
Want to learn more about what sets us apart as Oaklyn commercial electrical contractors? Contact us today for a free electrical survey and let us show you how we can keep your business running dependably and efficiently. D.P. Murt takes care of the power, so you can take care of the business.