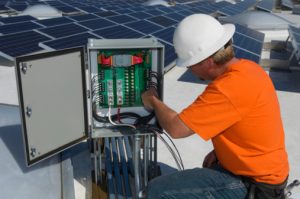 As one of the top Burlington County commercial electrical contractors, D.P. Murt, Inc. is the sole company you will require for your institutional, industrial, or commercial needs related to new or upgraded South Jersey commercial electrical service.
For more than three decades, the veteran-owned D.P. Murt has been a successful, full-service commercial and industrial electrical contractor. Our experienced and highly-trained industrial electrical technicians can install and maintain electrical systems to minimize unscheduled shutdowns and equipment failure. The types of work in which we specialize range from lighting installation and repair to energy conservation audits to general troubleshooting.
As a top Burlington County commercial electrical contractors, we have many successfully completed jobs under our belts to use as references for future business, operating in such municipalities as Hainesport, Mount Holly, Evesham, Moorestown, Medford, Willingboro, Southampton and Pemberton, Rancocas. Two of our most recent Burlington County were completed in Mount Laurel and Cinnaminson.
Burlington County commercial electrical contractors
In Mouth Laurel, we installed new 2,000-amp service connections for the 50,000-square-foot Coco Key Water Resort at the ML Hotel near the intersection of Route 73 and Interstate 295. The work also consisted of all lighting power distribution and fire alarm system installations.
In Cinnaminson, we performed a total upgrade of gymnasium lighting at all four schools operated by the township's Board of Education: New Albany Elementary School, Eleanor Rush Intermediate School, Cinnaminson Middle School, and Cinnaminson High School. The work consisted of installing LED lights in each gym as well as providing and installing lighting motion controls on all fixtures.
Thanks to the work undertaken by D.P. Murt, the Cinnaminson school district to apply for, and receive, a rebate from New Jersey Clean Energy, a statewide program that offers financial incentives, programs and services.
No matter the size or scope of your electrical service project, D.P. Murt can perform the work on a time schedule to fit your needs and for a price that will fit your budget. We are a South Jersey commercial electrical contractor with the skill and knowledge to far exceed your expectations.