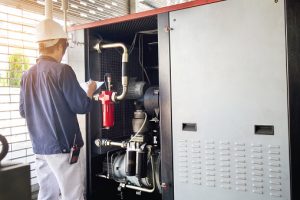 For the experienced and dependable name in Hainesport commercial electrical contractors, call on the team at D.P. Murt Co. Inc. D.P. Murt is based very close by in Pennsauken, and we are a family- and veteran-owned company that has been meeting the power needs of Burlington County businesses for over 30 years. Whatever your electrical needs, from new wiring to generators or complete system upgrades, we have what it takes to bring the project in and meet your budget.
At D.P. Murt, we've worked with every kind of commercial entity, from car dealerships to restaurants to industrial plants and much more. If you need to service or upgrade wiring, switchboards and circuits, or want to improve your lighting, we're there to help. We also can keep your HVAC and fire alarm systems operational and stable. If you are in the process of expanding or relocating your business, we can perform an entire design and build electrical system that keeps your power going, while keeping down your energy costs. Click here to learn more about our commercial services, including our 24/7 hotline.
We also install solar and wind technology, for businesses looking to save even more on energy bills and reduce their carbon footprint. You'll appreciate not only your efficient power and lighting systems, but also the lowered energy costs. If need be, D.P. Murt can come to your business and perform a conservation audit, to help you see how your equipment is using more and costing more than it should.
If you'd like to find out more about what sets us apart as Hainesport commercial electrical contractors, contact us today for a free electrical survey here, and let us help keep your business running efficiently and without shutdowns. Let D.P. Murt take care of the power, so that you can take care of the business.