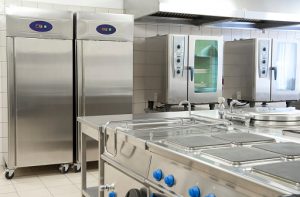 When you need established and trustworthy Willingboro commercial electrical contractors, it's time to call D.P. Murt Co. Inc. We're a veteran-owned company based just a few minutes away in Pennsauken, and we've been handling Burlington County businesses' electrical needs big and small for over 30 years. We take care to complete all of our projects on time and on budget, whether it's new wiring, generators, or upgrades of entire electrical systems.
Whatever your type of commercial business, D.P. Murt is ready for you. We've worked with restaurants, retail stores, industrial plants and everything in between. If you need repairs or upgrades to your existing system, we can assist with switchboards, circuits or lighting. We can also ensure that your HVAC system wiring is functional, and that you needn't be concerned with your fire alarm systems staying operational. If you have plans to relocate your business in or out of Willingboro, we can provide you with a complete design and build service that keeps your facility running efficiently with low energy costs. You can read more about our commercial services here, including our 24/7 emergency hotline.
If you're looking to make a switch to greener technology, we can help you with that as well. We can install solar systems and high efficiency lighting that helps you not only reduce your carbon footprint, but will also save you on energy costs. Our services include energy conservation audits, so you can see how you can save by using updated equipment or eliminating unnecessary usage.
When you'd like to find out more about what makes us the top name in Willingboro commercial electrical contractors, contact us today for a free electrical survey. We'll help you keep your business running dependably and affordably. At D.P. Murt, we take care of the power, so you can take care of business.