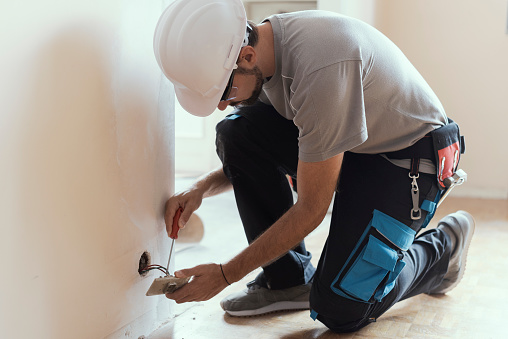 At D.P. Murt Co., Inc. in Pennsauken, we're your dependable choice for Evesham commercial electrical contractors. Since our beginning 1985, we've been a veteran-owned business focused on providing complete commercial electrical services to businesses throughout Camden County. Our mission is always to meet your electrical installation and repair needs, and provide quality work on time and on budget.
Whether your Evesham business is a restaurant, corporate office, or industrial plant, it's vital to keep your electrical systems running efficiently to stay in business. As you well know, keeping facilities and warehouses lit, your heating and air conditioning systems running, and your equipment operating is a considerable cost of doing business. Running with an aging or defective electrical system is asking for trouble, and could result in costly repairs and shutdowns.
Let the pros at D.P. Murt handle all of your commercial electrical needs, including repairs, upgrades, and new installations, that keep your systems going and energy costs down. We offer a full range of electrical services to Evesham businesses, including:
Lighting fixture installation and repair (includes energy-efficient LED, garage, warehouse etc.)
Energy conservation and overuse audits
Green technology solutions such as solar and wind
Design and build of entire electrical systems, with code-approved wiring, new generators, etc.
Backup UPS systems for uninterrupted power during storms
HVAC wiring and installation of programmable thermostats
Repair and installation of switchboards, circuits and panels
24/7 emergency electrical service
If you'd like to read about some examples of our completed jobs for municipalities and businesses, click here to see some of our case studies and find out why Camden County business trusts D.P. Murt for their electrical needs.
Whether you're looking to upgrade your aging electrical work, repair an existing system, or install an entirely new system in a new facility, contact the Evesham commercial electrical contractors at D.P. Murt today or click here to request a free electrical survey. We'll handle the power, so you can handle the business.