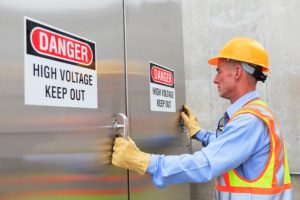 D.P. Murt, one of the top Gloucester County Commercial Electrical Contractors located in nearby Pennsauken, is the only company you will require for all your institutional or industrial commercial electrical services needs in South Jersey.
Proud to be a veteran-owned business, D.P. Murt has been taking care of customer needs – large and small – for more than three decades. In that time, our company has undertaken countless projects and has consistently finished them on time and within budget. We know you have expectations and it's always our goal at D.P. Murt to meet and exceed them.
We pay skillful attention to details and our expert employees continually find innovative approaches to solve problems. This is what sets us apart from all the others and it's what keeps D.P. Murt at the top of the New Jersey, Philadelphia, and Delaware commercial electrical service market.
As a top Gloucester County commercial electrical contractor, D.P. Murt has performed many major projects throughout the region and will be happy to share them with you when we meet to discuss your electrical service needs. Many of these jobs have taken place in such Gloucester County municipalities as West Deptford, Swedesboro, Washington Township, Monroe Township, Deptford Township, Glassboro Borough, and Franklin Township.
One job of which we are particularly proud is one we performed at the RiverWinds Community Center in West Deptford Township. In this project, the technicians, designers, engineers, and work crews on the D.P. Murt team installed a 300 KW emergency backup generator at the RiverWinds Community Center. As part of this work, D.P. Murt moved critical electrical power service loads over to the emergency generator, so the site could be used as a refuge area for residents in case of a storm or emergency.
No matter if you require a licensed contractor for electrical services repairs on an existing installation or need a new service installation, D.P. Murt is here to take care of all your electrical power needs.