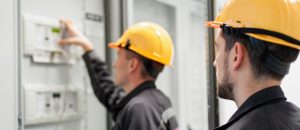 D.P. Murt Co. Inc. is the trusted choice for a South Jersey electrical contractor for industrial facilities. We are conveniently located in Pennsauken in Camden County, and we are a veteran-owned business serving industrial plants in Burlington, Camden, Gloucester, Salem, and Cumberland Counties. Whether you need to upgrade your current facility or you are moving or expanding, D.P. Murt has the staff and know how to get the job done right, and at a price your budget can afford.
If your facility has an aging or inefficient electrical system, chances are you're risking preventable and costly shutdowns. Or your system could be running less efficiently, costing you more in energy bills. We handle electrical repairs big and small, take on design and build projects of any size, and we can improve the efficiency of your current electrical system.
The technicians at D.P. Murt can replace your aging aluminum wiring with newer, code-approved wiring, and we can ensure that your important equipment like generators are functioning properly. We also offer green energy solutions, to help reduce both your company's costs and your facility's carbon footprint.
Here are just a few of the services we offer as a South Jersey electrical contractor for industrial facilities (to see more services click here):
Lighting installations/repairs (for warehouses, plants and garages)
Energy audits including implementation measures to reduce costs
Maintenance and repair services – on call 24/7 to perform repairs as needed
Switchboard installation, additional circuits and panel replacements
Industrial machinery electrical hookups
Industrial plant wiring and upgrades
To keep your South Jersey industrial facility running efficiently and affordably, trust the team at D.P. Murt. Click here to request a free electrical survey…let us show you how your plant's electrical system can be improved. D.P. Murt takes care of the power, so you can take care of the business.