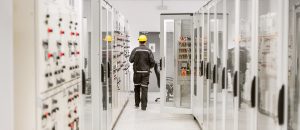 D.P. Murt Co. Inc. is the answer to your search for a South Jersey electrical contractor for commercial buildings. From our location in Pennsauken, we provide quality electrical repairs and upgrades to businesses throughout Burlington, Camden, Cumberland, Gloucester, and Salem Counties. D.P. Murt is a veteran-owned business, and has been serving South Jersey since 1985.
If your facility currently has an aging electrical system and generators, you run a greater risk of costly and preventable shutdowns…for restaurants and stores relying on a flow of customers, having to shut down the business even for one day is heavily damaging to your bottom line and reputation.
Let D.P. Murt take care of repairs and upgrades to your system. We can replace your aging aluminum wiring with stronger, newer and code approved wiring, install new generators and backup systems, and ensure your critical equipment is functioning. Are you planning to expand your facility or move to a new one? D.P. Murt specializes in design and build services and can set up your building with a new and cost-efficient system, including new generators and switchboards. We also install green energy solutions that reduce your energy costs and carbon footprint.
Whatever your need for a South Jersey electrical contractor for commercial buildings, D.P. Murt has the staff and expertise to get it done on time and on budget. Our services include:
Lighting installation/repair (including energy efficient lighting)
Energy conservation audits
Retrofitting and additions to commercial spaces
Additional electrical circuits
Switchboard and panel replacement
Generators and UPS systems
24/7 emergency service
If your commercial facility needs electrical repairs or an upgrade, or you'd like to save on energy bills, call D.P. Murt today or use this form to request your free electrical survey. We'll be happy to show you how you can improve your energy efficiency and reliability. At D.P. Murt, we take care of the power, so you can take care of the business.