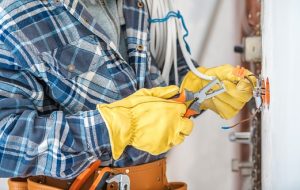 D.P. Murt Co., Inc. is the answer to your search for a South Jersey electrical contractor for car dealerships. Our home office is based in Pennsauken, and we are a veteran-owned business that has been serving South Jersey since 1985. We provide electrical and lighting installation services to car dealerships in Burlington, Camden, Cumberland, Gloucester and Salem Counties.
At your car dealership, you probably have high-powered lighting in your display lots, to help potential buyers have a clear view of their ideal car. The bright lighting in your lots can be costly, especially if you're using an aging, less efficient energy system. We can ensure that your system is functioning properly, and that your lighting is as energy-efficient as can be. D.P. Murt also offers green energy solutions that reduce both your energy bills and carbon footprint.
At your request, we can re-install brand new and more efficient lighting, for your office, warehouse and display lots. Whether you're looking to upgrade your existing system to a more efficient one, or expand or relocate your dealership, we can handle improving your power system and reduce your costs, at a price your budget can afford.
We provide these and other services as a South Jersey electrical contractor for car dealerships:
Lighting installation and repair (energy-efficient, parking lot and garage, warehouse and security)
Energy conservation audits
New services and service upgrades
Energy management systems
Wireless motion sensors
24-hour emergency service
If you'd like to improve your electrical and lighting systems, and lower your South Jersey car dealership's energy costs, contact D.P. Murt today or use this form to request a free electrical survey. We'll be happy to tell you more about our energy efficient energy lighting systems and the difference they can make in your energy costs. At D.P. Murt, we'll handle the power, so you can handle the business.