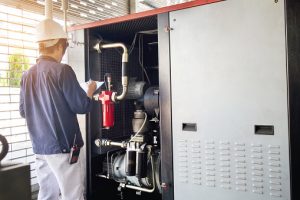 If you are a business or factory owner seeking the services of Salem County commercial electrical contractors, D.P. Murt Co. Inc. should be your destination. D.P. Murt is a veteran-owned company based in Pennsauken, NJ, and we provide high quality electrical services throughout South Jersey and the Philadelphia area. Since 1985, commercial and industrial clients have known the name D.P. Murt for a solid track record of completing projects on time and on budget.
D.P. Murt services all types of Salem County businesses, from restaurants to hotels to retail facilities and much more. We offer comprehensive electrical solutions, with both new and fully installed systems or repairs and upgrades of existing ones. And D.P. Murt offers 24-hour emergency service, for when Mother Nature or other events require immediate fixes.
Our electrical contractor services include:
Commercial Services. Keep your business running without concern for an older electrical system failing. We can replace your old aluminum wiring with an upgraded and code-approved system. We'll also help you save on energy bills with conservation audits; install switchboards and electrical circuits; and add energy-efficient lighting for warehouses, garages or offices.
Industrial Services. Make sure your electrical system is up to date and can handle the workload of your factory. Our highly trained technicians can install and maintain generators, motor control centers, and invaluable backup systems, to keep the equipment and the business running without unscheduled shutdowns. We can also install a security system with door readers and telecommunications to keep your plant and employees safe.
Institutional Services. Whether you need new electrical service or a service upgrade, or if you'd like to switch to green technology with solar systems and energy saving lighting, D.P. Murt can meet your electrical needs.
When you're ready to improve your existing electrical system, contact D.P. Murt for a free survey and find out more about what sets us apart as Salem County commercial electrical contractors. D.P. Murt takes care of the power, so you can take care of business.