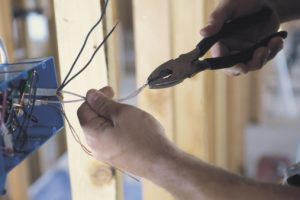 If your business requires the services of Philadelphia commercial electrical contractors, call the pros at D.P. Murt Co. Inc. D.P. Murt is a veteran-owned company based across the river in nearby Pennsauken, and our quality service is available to businesses throughout the Philadelphia area. From as far back as 1985, commercial and industrial entities have turned to D.P. Murt for our reputation for completing projects on time and on budget.
We address electrical needs for every type of business…including manufacturing plants, offices, and retail facilities. We can handle your electrical needs from start to finish, from installing new systems to repairing or upgrading existing ones. And when Mother Nature or other disasters strike, we offer 24-hour emergency service to get your business back up and running again.
Our electrical services include:
Commercial Service. If your business is running on an aging system that can fail, call on us to install a new and code-approved system for you. We'll replace old wiring with a new set of upgraded and stronger wiring. We can also run energy conservation audits to save you on energy bills, install switchboards and circuits, and add new lighting for warehouses and offices.
Industrial Service. Make sure that your plant stays running strong and can handle the workload. We can help install and maintain generators, motor control centers, and backup systems that will keep your factory running and avoid costly shutdowns. If you need a new security system with door readers and telecommunications, we can install that for you as well.
Institutional Service. Whether you need all new services or just a system upgrade, or if you are interested in running your business with green technology using solar and wind power, D.P. Murt can handle the transition for you.
When you are ready to improve or replace your electrical systems and power supply, contact us for a free survey and see how our track record and solid work sets us apart as Philadelphia commercial electrical contractors. At D.P. Murt, we'll handle the power, so you can handle the business.