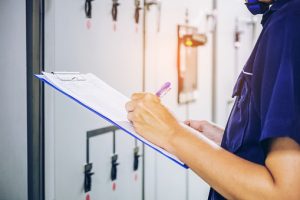 If your business or factory needs the services of professional Cumberland County commercial electrical contractors, D.P. Murt Co. Inc. is the company to call. D.P. Murt is veteran-owned and based in in nearby Pennsauken, and our team offers top notch electrical services to entities throughout South Jersey, Philadelphia and Delaware. Since our beginnings in 1985, companies have relied on us for our track record for completing projects efficiently and on budget.
D.P. Murt installs and repairs electrical systems for offices, factories, restaurants and much more. We provide top-to-bottom electrical solutions, from installing new generators to upgrading existing systems. And we're available 24/7 for emergency service, for when shutdowns and Mother Nature events require immediate fixes.
Our comprehensive service includes:
Commercial Service. We'll keep your electrical system running with a new, code-approved system that replaces old and less dependable aluminum wiring. We can perform conservation audits to help you save on energy bills, install new switchboards and several types of circuits, and install new lighting systems in warehouses, garages and offices.
Industrial Service. Your electrical system needs to be able to handle the production workload of your plant. Make sure it's able to with top quality generators, motor control centers and backup systems installed by our highly trained technicians. Our team can also maintain your security with door readers and fire systems to keep your factory and employees safe.
Institutional Service. If you need all new electrical services or an existing service upgrade, add more energy efficient lighting, or even if you'd like to make a switch to greener technology, D.P. Murt can meet your electrical service needs.
Whether you wish to upgrade your existing system or install a new one, contact D.P. Murt today for a free survey and find out what makes us the respected name in Cumberland County commercial electrical contractors. At D.P. Murt, we take care of the power, so you can take care of business.